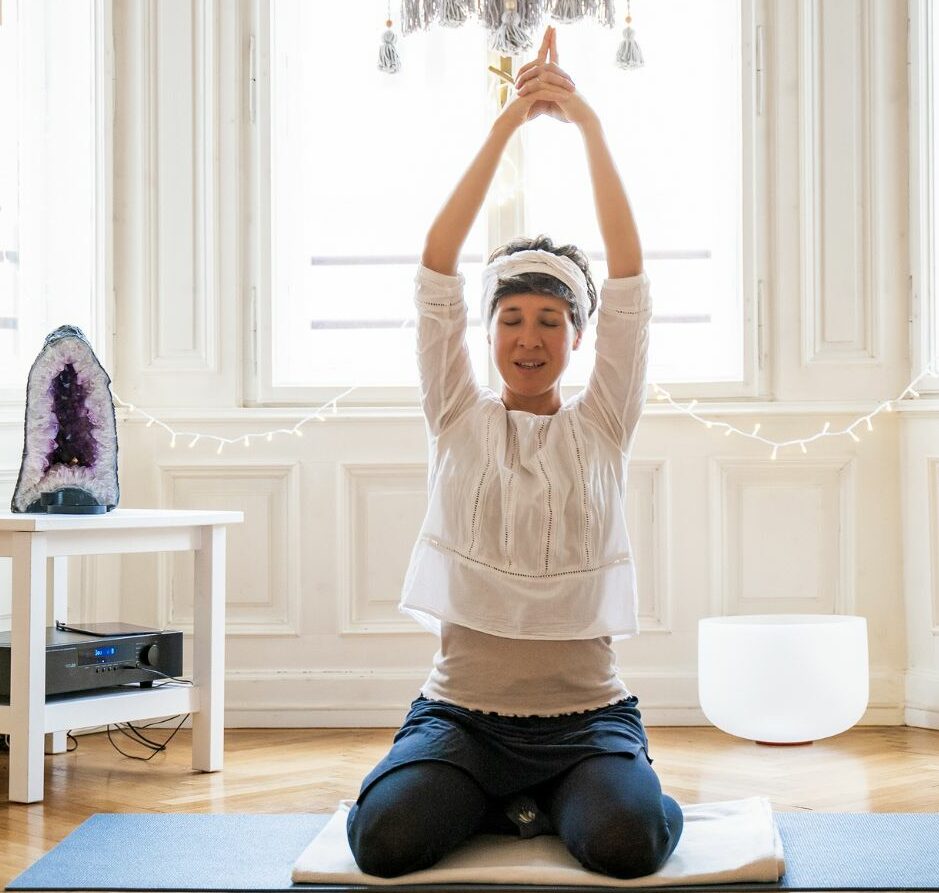 Back to Balance: 2023 with Lis Mitterrutzner (DE)
09.10. - 06.11.2023 | Monday 06:00 - 08:00 pm @ RE:TREAT
Overview
About the event
This course is your self-empowerment program to bring the health of your hormonal system back into your own responsibility:
You understand the interrelationships between the endocrine system, nervous system, and natural/cyclical rhythms.
You will learn Kundalini Yoga, meditations and breath forms to positively influence these systems.
You'll find a lifestyle that is right for you, guiding you and your hormones back to balance.
The big player progesterone (topic: estrogen dominance) is in focus as well as the connection of the glands with the chakras, with detoxifying organs, the major life cycles and a yin-oriented lifestyle.
Back to Balance includes
Our evenings consist of:
Short topic input
Kundalini Hormonyoga – Relaxation – Meditation (Breath, Mantra, Mudra)
Sharing Circle
Women's herbal tea (changing weekly)All exercises and meditations are available as written instructions (some also as audios/videos) – so that you can continue practicing at home, because:
Hormone Balance is a life-long love story!
Included are:
> 4 live practice and sharing sessions of 120 minutes each
> audios/videos of individual exercise series + meditations
> written instructions for Kundalini Kriyas, meditations, breathing techniques
> a constantly growing mantra and dance playlist
> Literature list, helpful podcasts, good IG accounts on the subject, etc.
After completing the course, you will have access to a selection of Kriyas (series of exercises from the
Kundalini Yoga), meditations and breathing techniques from which you can create your own sustainable supportive practice for hormone balance.
Your commitment - your personal Back to Balance program
You dedicate yourself 1x per week in the group to your hormone balance (we support each other)
You establish a daily Kundalini Yoga and breathing practice of about 30-40 minutes for yourself.
You make small, effective adjustments to your daily habits (diet – sleep – relaxation – based on your findings from the course and your observations)
This course is for you if you
are ready to deal with your own hormonal balance and consciously take it into your own hands – from your twenties to (pre)menopause and beyond.
are ready to make changes in your lifestyle (mindfulness in your practice, your diet, your rhythms, your needs…)
are ready to take care of your hormonal health independently for yourself and in community with other women
Date
MONDAY
06.30 – 08.00  PM pm at the studio
2.10./9.10./16.10./23.10./6.11./13.11./27.11.
TUESDAY 06.30 – 08.00 pm online via Zoom:
26.9./3.10./17.10./31.10./7.11./21.11./28.11.
Registration
There are 6 places available in the studio and 6 online places. Please indicate how you would like to participate when you register.
Before you sign up, please write me if any of the following apply to you: pregnancy, hyperthyroidism, high blood pressure, cancer, larger fibroids, endometriosis, heart problems, or if you want to start soon after surgery.